2017 Subaru BRZ Sport-tech Road Test Review
October 18 2017, Docksteader Subaru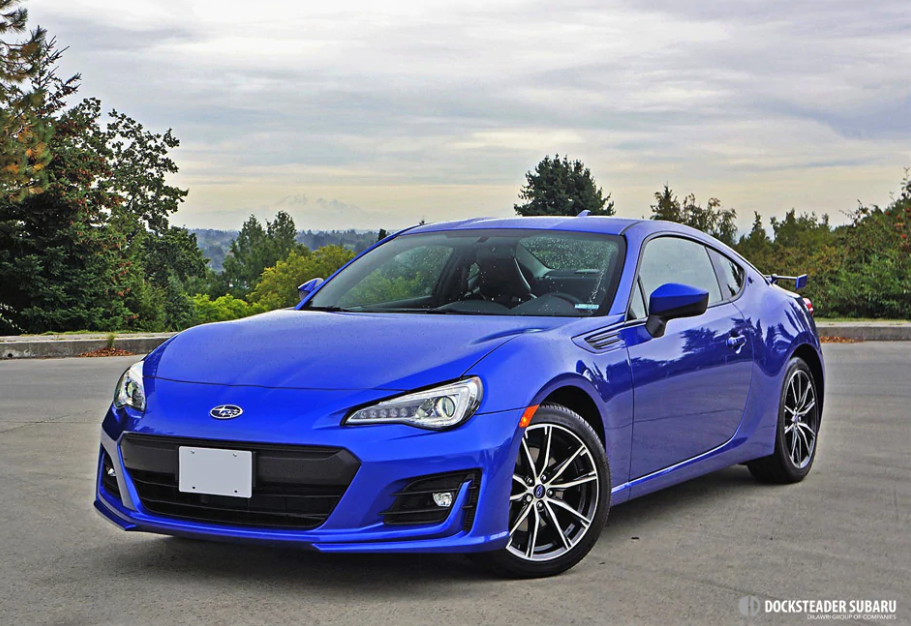 Loads of improvements make for a better BRZ
The much loved BRZ sports coupe received a bevy of improvements for 2017, starting with styling enhancements that include revised front and rear fascias featuring new standard full LED headlamps and LED taillights respectively, interior refinements with added features like upgraded Starlink infotainment that includes a standard rearview camera, plus engine performance and handling improvements highlighted by an all-new VDC Track mode.

Fresh new styling intensifies BRZ look
I like the subtle changes made front and back, the new headlights adding some sophisticated detail and the more complex lower fascia getting F1-style aerodynamics at each corner, my upgraded Sport-tech tester featuring new LED fog lamps as well. The body-colour fender vents get a more windswept look, while the rear deck lid spoiler is now a separate pedestal-mounted body-colour and black aluminum wing for greater rear downforce and a much sportier look, plus it's standard.
Inside, my tester's red stitching on black leather and Alcantara psuede motif is part of my Sport-tech upgrade as well, and is just as nice now as it was the last time I tested it. In other words it's mostly carryover, although some interior details, like an updated standard leather-wrapped steering wheel with better controls, are new.

Refinements inside add to the upgrades
Along with the Sport-tech's styling upgrades it gets improved cabin materials such as a soft-touch instrument panel, the $2,000 option also including some extra silver trim, BRZ-embroidered logos on the previously noted red-stitched, leather and psuede front seats, two-way heatable elements added to the latter, illuminated vanity mirrors overhead, dual-zone auto climate control, and a 4.2-in LCD multifunction display ahead of the driver, which stands in substitute for other meters in the rightmost primary "dial". Features integrated within include a lateral G meter, accelerator pedal position, braking force, steering angle, oil and water temperatures, battery voltage, and an integrated stopwatch for recording lap times.

More power equals more fun
Those lap times should improve thanks to a bit more muscle for the BRZ's horizontally opposed DOHC naturally aspirated 2.0-litre "boxer" four-cylinder. It's been massaged with new valves, camshaft and cylinder heads, plus a new aluminum intake manifold and exhaust manifold for an additional five horsepower and five pound feet of torque resulting in 205 of the former and 156 of the latter for models with the as-tested six-speed manual, which also feels more refined and smoother.
Subaru provides the option of a six-speed automatic with paddles, which is actually a good alternative if you feel the need and don't mind slightly less output, this version getting the same engine tuned to 200 horsepower and 151 lb-ft of torque, but I was certainly glad for my tester's more engaging DIY combination.
The BRZ has never been solely about straight-line acceleration or optimal speed, but the new setup certainly allows a bit more snap off the line. A new lower final drive ratio, from 4.1 to 4.3:1, paired with a standard Torsen limited-slip differential, helps in this regard, not only with power from standstill, but more thrust when you really need it, like when exiting corners.

Few cars handle as well as the BRZ
Such is the BRZ's forte, and fortunately the new 2017 model feels at least as agile as the outgoing version. What I love about this type of sports car is the ability to have fun without venturing into unwise speeds. After all, most jurisdictions harshly penalize excessive speed, so why bother with a car that's only enjoyable when those limits are breached and the result could result in heavy fines, impoundment, and potential loss of license. Many of us don't have access to a local racetrack or the money to pay for its use, so I've become a big believer in buying the right car for the circumstances, and the BRZ falls perfectly into this real-life philosophy.
I
n a BRZ, traffic circles and highway entry/exit cloverleaves become surrogates for Laguna Seca's Andretti Hairpin and Corkscrew, the car so much fun to pitch sideways into a corner that you'll be praying for rain just so you can slide around in tail-wagging splendor without, once again, exceeding the speed limit. It's a car that will test your skill too, especially if you turn off the various electronic driving aids, the multi-mode stability control system better than average thanks to lateral-g and yaw-rate sensing albeit still most enjoyable when overridden, and one that rewards that skill with predictable oversteer combined with absolute control no matter the weather or road conditions.

More practical than most competitors
It's in such situations that I appreciated the grippy psuede seat inserts, which helped to hold backside in place, while overall driver's seat comfort and support was excellent. Believe it or not I also took opportunity to climb in back and found this 2+2 sport coupe's rear quarters can accommodate smaller adults in pinch, although I wouldn't recommend it for a long drive. Likewise the BRZ offers up a lot of cargo space for the class, and when the rear seatback is folded flat you'll find plenty of room for long items like skis, boards, etc. There's even room enough for four rims and slicks, or a couple of golf bags if your idea of sport is focused more on greens than blacktop.
Speaking of practicalities, despite the driveline changes mentioned earlier the 2017 BRZ still achieves impressive fuel economy, with the manual rated at 11.1 L/100km city and 8.0 highway and the autobox a bit better at 9.7 city and 7.2 highway.

Comfortable and loaded with features
I've spoken at length about the BRZ's performance improvements, but the suspension is also slightly more compliant for better comfort overall. This also benefits cornering on rougher roads, so it delivers yet another win-win with respect to real-life driving.
On that note I'd be happy commuting in a BRZ, that suspension, the excellent seats and its many standard features making life comfortable and convenient, some of these items including auto on/off headlamps, power-adjustable heated side mirrors, tilt and telescopic steering, variable intermittent wipers with washers, cruise control, Bluetooth connectivity with voice activation and streaming audio, aux and USB integration, eight-speaker AM/FM/CD/MP3/WMA/satellite/Aha audio from a 6.1-inch high-resolution colour touchscreen with navigation, SMS text messaging, SiriusXM Traffic, and that aforementioned standard rearview camera, while brushed aluminum doorsills, metal pedals, and its stunning 17-inch alloys on 215/45 R17 Michelin Primacy rubber deliver an even more upscale look.

Superb value for its premium style and performance
While its standard feature set is impressive for a car costing just $27,995 plus freight and fees, there's no way I'd buy a BRZ without the Sport-tech package, as it provides that extra wow factor the interior needs to match the car's even more appealing outward design, plus a number of appreciated features.

All-round the 2017 BRZ adds some welcome styling updates, improvements inside and a better driving experience, which combine to make an already superb sports coupe even more appealing.